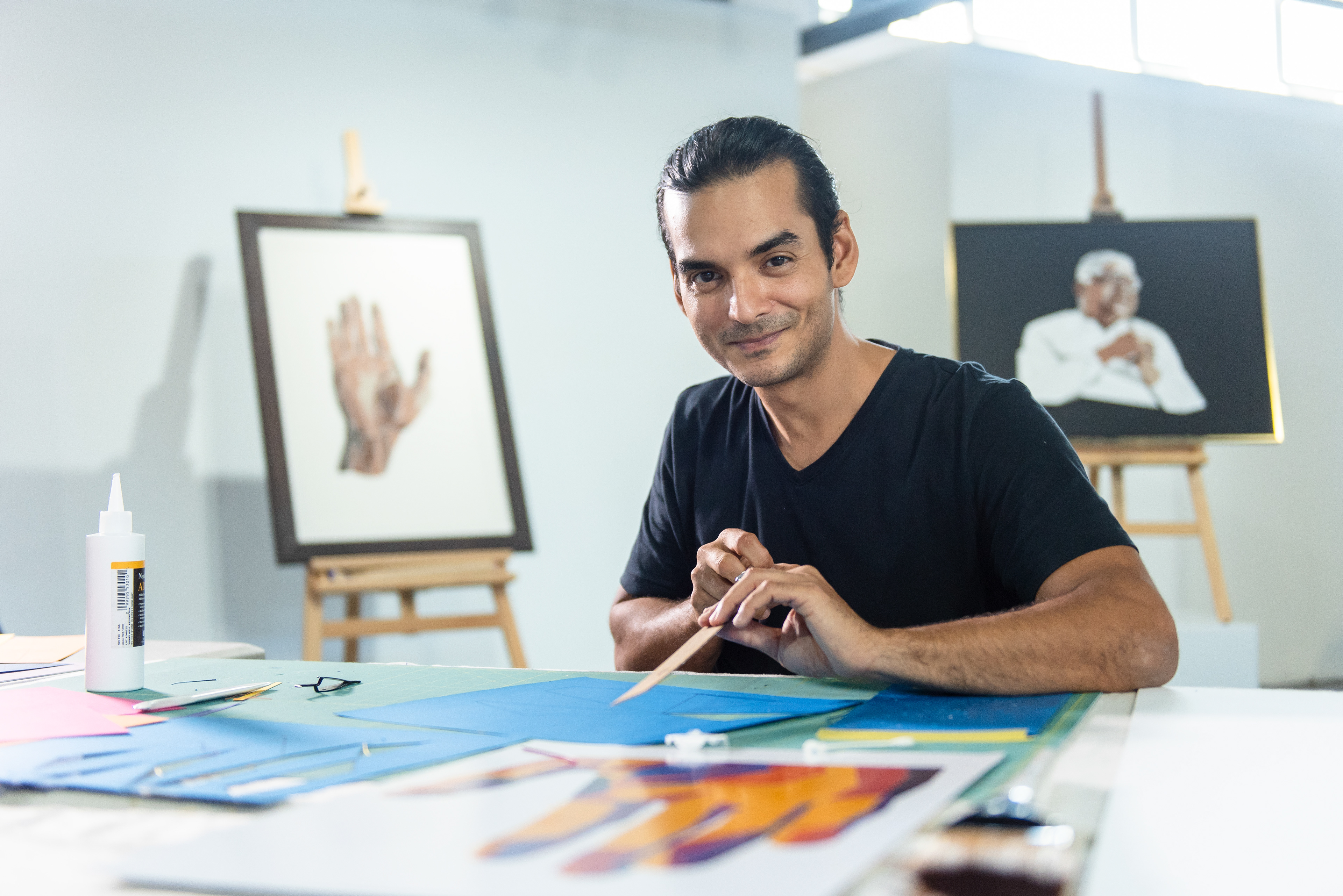 Where giving is the only way to receive.
The name Anón derives from the Spanish name for the sugar apple; a delicious fruit sectioned into many triangular compartments, each containing a seed. It is also half of the word

anonymous

, chosen to emphasize the collective effort required to bring forth any endeavor. In bringing others into the creative process, one is able to serve, to give, thus becoming better at giving. And giving is the only way to receive.
The work of Anón is an ode to convergence, to co-creation. In efforts to dissolve the separation between the artist and the viewer, we put to use our capacity to work together and create landscapes of shapes and colors for others to play in. 
Anyone who is able to hold a brush is ushered into a space where their inner (and often forgotten) artist is nurtured. It both allows us to continue on the road to an inclusive mode of thinking, and to chip away at any pre-conceived differences.
Being alive and sentient today comes with exposure to the many ongoings of the world, which can pull the mind in any direction. For this reason, we choose to work with subjects that are seeds, that incite contemplation —that serve as lenses to a beauty beyond fear. Our objective is to remind as many as we can, if only for a few minutes at a time, that we are fortunate to live in community, and of the immense amount of love found within it.
May our efforts benefit all beings.
Jhonattan Arango is an artist and small business owner. Born in Cuba and raised amongst the arts, he came to the United States at the age of 13. He served several years in the U.S. Navy as a medic (corpsman), where he developed a keen appreciation for community, and the importance of a nurtured human spirit for a healthy life. After spending some time in the financial industry he was led back to his passion, receiving his B.F.A. from the Art Institute in Jacksonville in 2011. He is best known for his signature community mural projects and meticulous paper compositions, as well as being a crafter of delicious vegan desserts. He currently lives in West Palm Beach pursuing a life of art-making with his beautiful wife Samantha.
•    2018 Aqua Art Miami — Art Basel Miami '18 (Miami Beach, FL)
•    2018/19 EmKo Palm Beach resident shows (West Palm Beach, FL)
•    2016 Conception Art Fair — Art Basel Miami '16 (Miami's Wynwood District, FL)
•    2016 Nicole Henry Fine Art Gallery (West Palm Beach, FL)
•    2016 CANVAS Outdoor Museum Show '16 gala (West Palm Beach, FL)
•    2015 Studio/429 show (West Palm Beach, FL)
•    2014/15 Art House 429 (West Palm Beach, FL)
murals.

•    2018 Bee Access Products, WPB, FL (27'x8.5') — community
•    2018 Rosemary Ave. "world's longest road mural", WPB, FL (1.2 miles) — crew
•    2017 Hilton West Palm Beach, WPB, FL (13'x4.5')
•    2017 Transitions Float Studio, Juno Beach, FL (10'x8') — community
•    2017 Crafthaus, Palm Beach Gardens, FL (10'x6')
•    2017 Harold's Coffee, WPB, FL (5'x3') — community
•    2016 VeggieFruit, Palm Beach Gardens, FL (13'x10') — community
•    2016 CANVAS Outdoor Museum Show, WPB, FL (40'x10') — community
•    2016 Aura Music Festival, Live Oak, FL (8'x4') — community
•    2015 Celis Produce, WPB, FL (12'x8') — community
•    2015 EmKo Palm Beach, WPB, FL (10'x10') — installation
•    2015 Garage VV, Northwood, WPB, FL (41'x17')
•    2014 Cirque Nightclub, Clematis, WPB, FL (10'x8')
•    2014 Lost Weekend, Clematis, WPB, FL (8'x8')
•    2014 Pawnshop Nightclub, Clematis, WPB, FL (16'x16')
painting, paper, public art, lettering, illustration, architectural drawing,
mapping and drafting, graphic arts, plastic arts