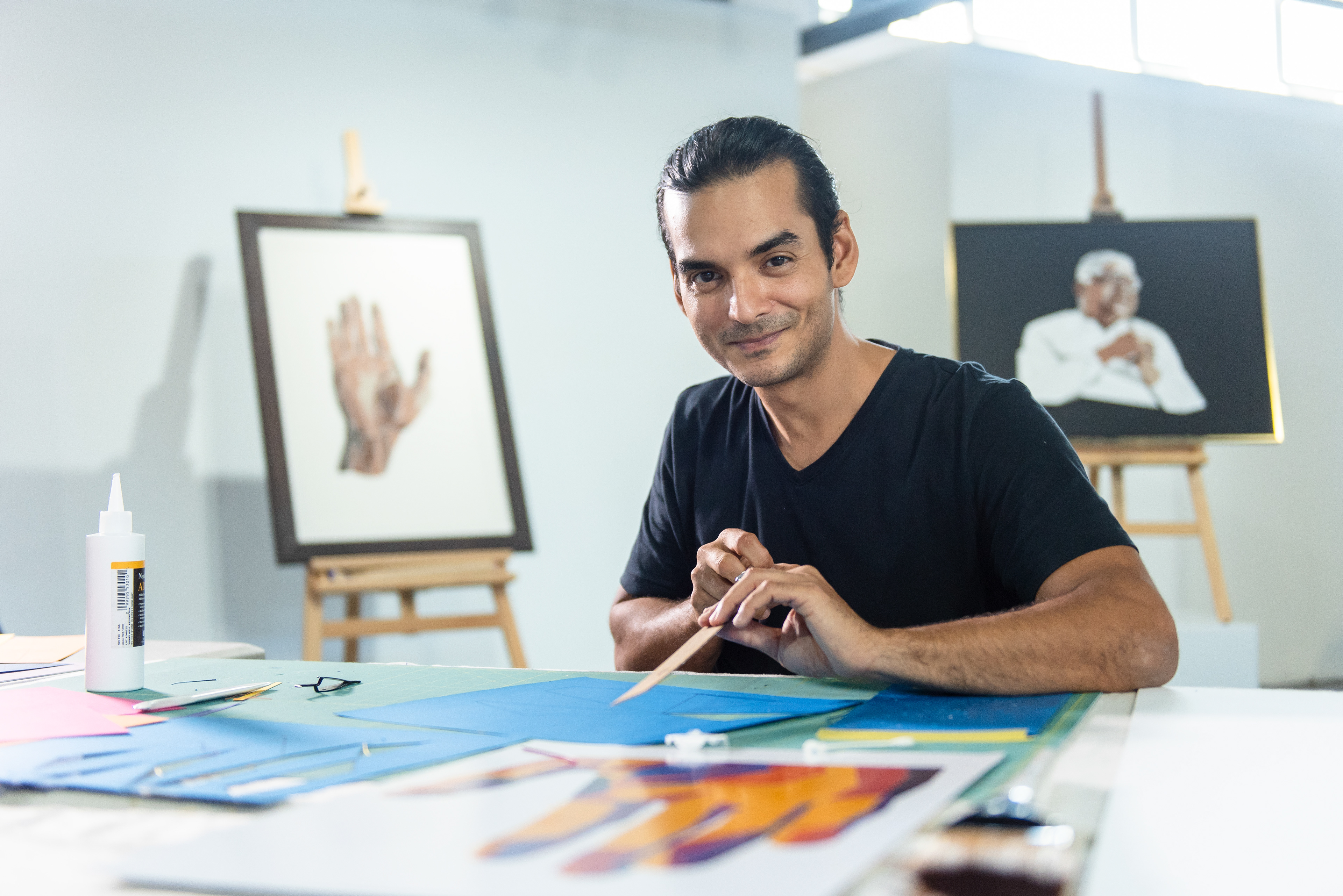 Anón is a collective.
​​​​​​​
Born in Cuba to an artistic family, I have always nurtured the need to do something skillful with my hands and imagination. A few years after coming to the United States, I joined the Navy as a medical professional, where I exercised this creative impulse by using my hands to help others, which also awakened a strong desire to be of service. The Navy helped me develop a keen appreciation for community, and the importance of connection for a happy, healthy life. After finishing my term, I pursued a BFA in Graphic Design, learning to create art with digital assistance. My art voice would really take form after a silent 10-day Vipassana meditation course, an experience that gave me the tools to communicate the value of community.​​​​​​​
Telling stories is a main component to the work that I do, and I use the most basic shape ­—the triangle— to tell these stories. Anón, the artist name that I have chosen, is foremost a representation of our interconnection to all things, small and large. This idea of non-separation is communicated through the simplicity of the triangle. With this shape, all shapes are achievable —all forms can bring forth their life. By utilizing triangles to create three-dimensional shapes, the viewer is intrigued, and brought inwards to question and interpret their own makeup.
In murals and in life, I like to empower others to pick up a paintbrush and work together. Through the experiential act of co-creation, it becomes easy to experience the diversity in each triangle's shape, color, size, and ultimately appreciate how each one, regardless of appearance, is imperative to the integrity of the whole. My objective is to remind others, if only for a few minutes at a time, that we are fortunate to live in community, and of the immense amount of love found within it. I'm currently living in (and loving) West Palm Beach pursuing a life of art-making with my wife and partner Samantha, and our beautiful son Sagan.
•    2018 Aqua Art Miami — Art Basel Miami '18 (Miami Beach, FL)
•    2018/19 EmKo Palm Beach resident shows (West Palm Beach, FL)
•    2016 Conception Art Fair — Art Basel Miami '16 (Miami's Wynwood District, FL)
•    2016 Nicole Henry Fine Art Gallery (West Palm Beach, FL)
•    2016 CANVAS Outdoor Museum Show '16 gala (West Palm Beach, FL)
•    2015 Studio/429 show (West Palm Beach, FL)
•    2014/15 Art House 429 (West Palm Beach, FL)
•    2019 One Giant Leap for Mankind, Cape Canaveral, FL (80'x23') 
•    2018 Bee Access Products, WPB, FL (27'x8.5') — community
•    2018 Rosemary Ave. "world's longest road mural", WPB, FL (1.2 miles) — crew
•    2017 Hilton West Palm Beach, WPB, FL (13'x4.5')
•    2017 Transitions Float Studio, Juno Beach, FL (10'x8') — community
•    2017 Crafthaus, Palm Beach Gardens, FL (10'x6')
•    2017 Harold's Coffee, WPB, FL (5'x3') — community
•    2016 VeggieFruit, Palm Beach Gardens, FL (13'x10') — community
•    2016 CANVAS Outdoor Museum Show, WPB, FL (40'x10') — community
•    2016 Aura Music Festival, Live Oak, FL (8'x4') — community
•    2015 Celis Produce, WPB, FL (12'x8') — community
•    2015 EmKo Palm Beach, WPB, FL (10'x10') — installation
•    2015 Garage VV, Northwood, WPB, FL (41'x17')
•    2014 Cirque Nightclub, Clematis, WPB, FL (10'x8')
•    2014 Lost Weekend, Clematis, WPB, FL (8'x8')
•    2014 Pawnshop Nightclub, Clematis, WPB, FL (16'x16')
painting, paper, public art, lettering, architectural drawing,
mapping and drafting, graphic arts